Local Violinist | Orlando Violin Performance | Orlando Violinist | Orlando Violin Show | STAGE-1: ALIEN VIOLINIST | An "OUT OF THIS WORLD" Experience | LIVE VIOLINIST ORLANDO | Alien Violinist Show | Violin Performance | Orlando Entertainment | Orlando Entertainer | Violinist Orlando | Orlando Violinist | Central Florida Violinist | Stage 1 Alien Violinist | Stage 1 Violin Show | Clermont Web Design by: https://OrlandoWebSolutions.net | Orlando Web Design by: OrlandoWebSolutions.net | Orlando Philharmonic Conductor | Orlando Philharmonic 2022-2023 | AlienViolinist.com
Local Violinist
| Orlando Violinist |
Orlando Violin Performance | Orlando Violin Show | STAGE-1: ALIEN VIOLINIST | An "OUT OF THIS WORLD" Experience | LIVE VIOLINIST ORLANDO | Alien Violinist Show | Violin Performance | Orlando Entertainment | Orlando Entertainer | Violinist Orlando | Orlando Violinist | Central Florida Violinist | Stage 1 Alien Violinist | Stage 1 Violin Show | Clermont Web Design by: https://OrlandoWebSolutions.net | Orlando Web Design by: OrlandoWebSolutions.net | Orlando Philharmonic Conductor | Orlando Philharmonic 2022-2023
Local Violinist | Orlando Violin Performance | Orlando Violin Show | STAGE-1: ALIEN VIOLINIST | An "OUT OF THIS WORLD" Experience | LIVE VIOLINIST ORLANDO | Alien Violinist Show | Violin Performance | Orlando Entertainment | Orlando Entertainer | Violinist Orlando | Orlando Violinist | Central Florida Violinist | Stage 1 Alien Violinist | Stage 1 Violin Show | Clermont Web Design by: https://OrlandoWebSolutions.net | Orlando Web Design by: OrlandoWebSolutions.net | Orlando Philharmonic Conductor | Orlando Philharmonic 2022-2023 | AlienViolinist.com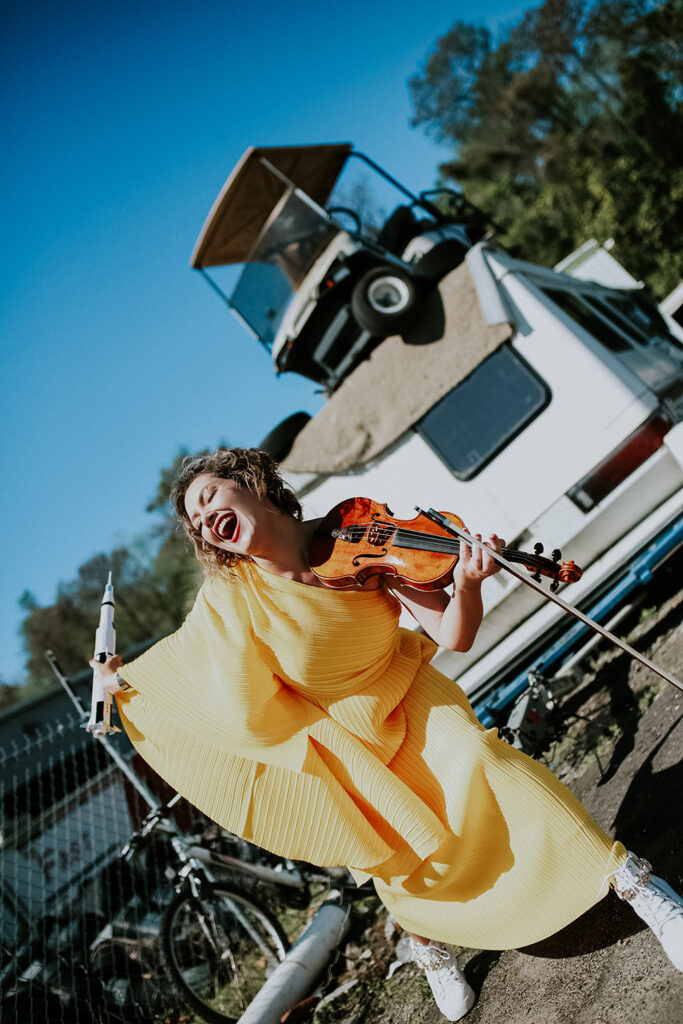 SHOW INSPIRATION
For years I have been searching for a way to bring Music to people in a brand-new light…to give people an experience of the Violin that is up-close and personal…that touches them in a way they will never forget. I've also been wanting to combine my love of Music with my love of Reality: Science, the Earth, the mysteries of nature and the secrets of the Universe. My love of  Music and my love of Reality are both so intense…they are my passions…I stand in awe before them, and I am absolutely compelled to share them with others…
It was out of the synthesis of my thoughts about Music and Reality that the concept of the Alien Violinist was born, and it is truly a joy to have the opportunity to share my passions with others through my original One-Woman-Show. "Stage-1" is many things: it is a Concert with great music, it is a fun evening with friends, it is a Comedy, it is a Drama. But it is more than these things:
It is a new take on Performing Art: It is an Immersive Experience; a Total Experience.
It is a show for people who are wandering- wondering who they are or where they belong.
It is a show for people who want to enjoy life and have fun.
It is a show for people who are suffering and looking for meaning. 
It is a call to anybody who wants to listen to be the best of who they were born to be, to see the value of who they truly are, to rediscover life as the gift that it truly is…to love more, to understand more, to heal, to restore, to enjoy, and to fill the Earth with Beautiful Things of all kinds.
ABOUT THE ARTIST
Award-winning violinist, composer, actress, screen-writer, comedian, and performing artist, Julie LeDuc is the creator and star of the one-woman-show:
"STAGE-1: ALIEN VIOLINIST"
She loves Planet Earth and all the Humans on it. She resides in the beautiful state of Florida. Julie loves eating pineapples and chocolate- sometimes even at the same time.